Buffalo Chips Pizza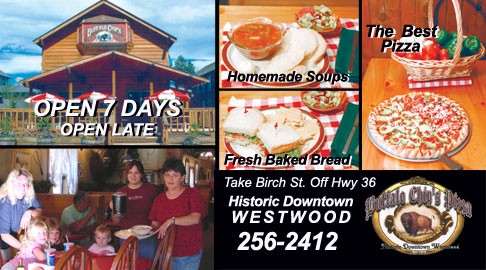 322 Birch Street, Westwood, California 96137
(530) 256-2412
Buffalo Chips Pizza is located in northern California,

just minutes from beautiful Lake Almanor,

in Historic Downtown Westwood

Our family serving your family with 33 years of excellence!
The best pizza

Daily homemade soup

Great sandwiches

Fresh hot bread - we bake it here

Garden fresh salad bar

Cheesecake Factory Dessert

Beer & Wine

Wide-Screen TV - Game Arcade

Special Senior Prices
Follow The Herd
Visit Buffalo Chips 7 Days a week - Open Late
We hand-throw our fresh pizza dough, top it with our scrumptious sauces, our fresh blend of cheeses
and your choice of the leanest meats and garden fresh vegetables.
Then we pop it into our old fashioned brick oven and home bake it to a bubbling perfection!
Visit Buffalo Chips Pizza in downtown Westwood,

just 6 miles from beautiful Lake Almanor.

Our restaurant is in an historic Westwood bunkhouse

once used by the Red River Lumber Company.